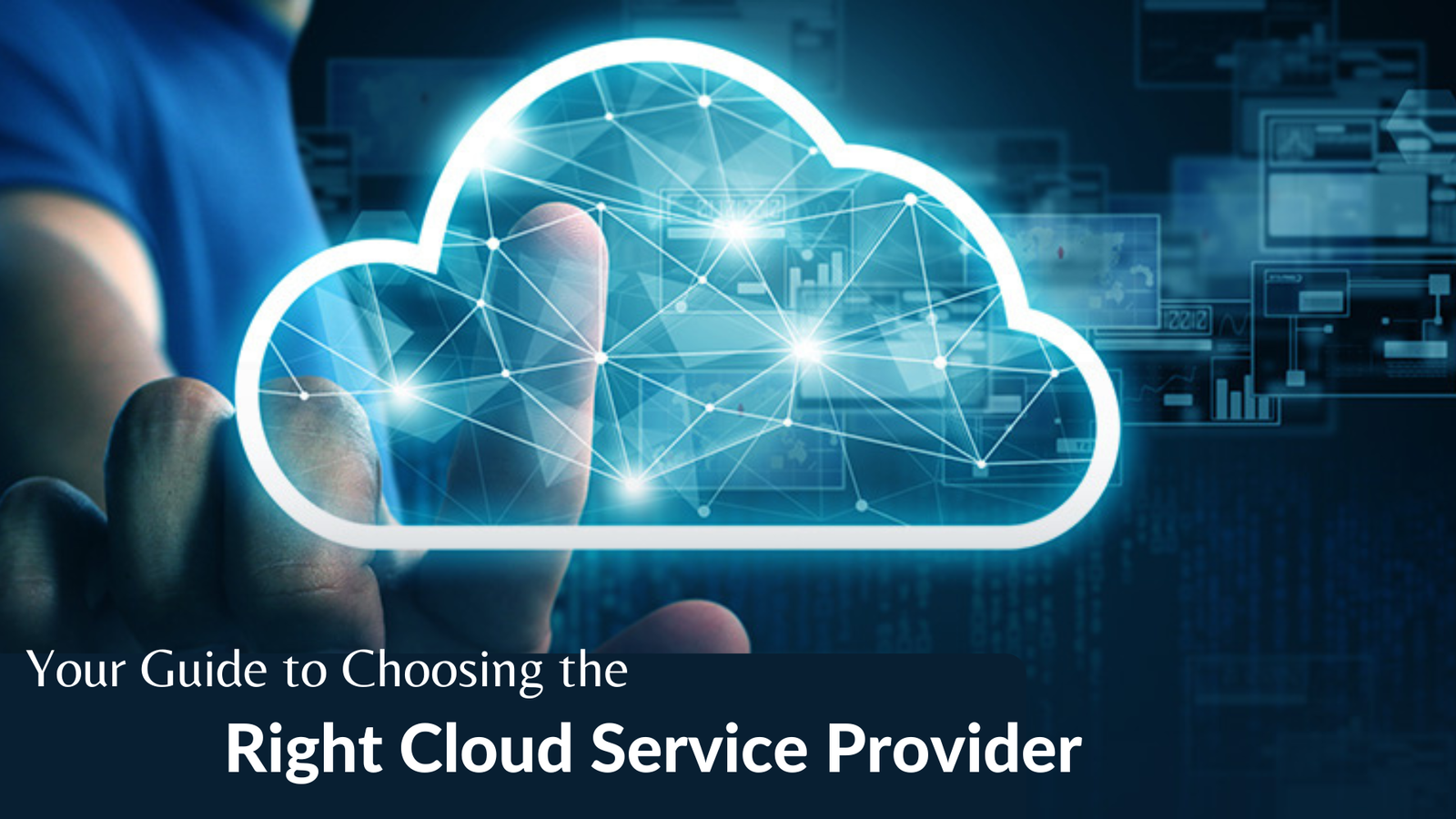 An organization can rent infrastructure from cloud service providers. Find out more about choosing the right cloud service provider, cloud computing, and more.
Your Guide to Choosing the Right Cloud Service Provider
Cloud Service Providers are businesses that set up public clouds, manage private clouds, or sell cloud computing parts on demand.
Cloud computing's gradual rise to prominence as a game-changing technology has been warranted.
In 2023, implementing cloud-based services and infrastructure will be crucial if you want to take your organization digital.
A new analysis estimates that cloud migration will expand at a Compound Annual Growth Rate (CAGR) of 16.3% between 2021 and 2026.
Cloud computing is an extension of two other emerging technologies: a) time-sharing, which allows users to share the computing resources of an extensive system. And b) distributed computing, which decentralizes computing resources to divide the workload across numerous machines across a network.
Even if you have a basic understanding of the cloud and how it operates, moving your organization there might be overwhelming if you need more time to be ready.
When planning your move to the cloud, it's crucial to consider the following 12 things to avoid unexpected costs, security problems, or problems with your IT infrastructure.
1.Security
Protecting company files and client information is more critical than ever in this era of increasing cyber-attacks. Although cloud security has improved over time, any data transfer from on-premise to the cloud remains vulnerable to attack. Small and Medium-sized Businesses (SMBs) may feel more comfortable storing their data in the cloud rather than on-premise. Security updates are regularly performed by cloud providers, and internal firewalls protect your data. Access to resources and files is restricted due to centralized data and solutions storage. Data stored in the cloud is encrypted and backed up in numerous locations.
2.Data Location
Where exactly do you plan on keeping your information? If you lose data, it might be challenging to retrieve it, so storing it someplace that is unrestricted by a contract is essential. Pick a cloud station that lets you move about quickly and easily, with immediate signals of your progress.
3.Disaster Recovery and Business Continuity
Before moving to the cloud, data backup and recovery planning are essential if your cloud service provider encounters downtime or a disaster. Do you have a contingency plan in place? Where do you stand, and how do you intend to recover from this crisis? The definition of an outage and the circumstances under which monetary penalties should be imposed should be familiar to you. These specifications should be addressed in your Service Level Agreements (SLAs).
4.Scalability
All things have their limitations. Cloud applications are generally scalable and use a "pay as you go" model driven by user demand. However, even the Cloud has its limits. Determine how much and how far your application can scale. You can d this by analyzing your organizational, storage, people, technological, and financial "ceilings" as you develop your Cloud plan. It is also vital to determine whether or not your current software is compatible with the Cloud.
5.Reliability
As a subscriber, it is essential to know your vendor's error rate, how oftenthe power goes out, and if there are any security issues. You can also choose the best cloud service provider for your business by keeping an eye on theusability and cloud services they provide.
6.Migration Architecture
Before moving to the cloud, the first step is to build a robust migration architecture. A systematic migration architecture is in charge of figuring out what the cloud needs, planning resources, and making plans for moving data to the cloud. As a cloud migration strategy requires detailed technical planning and structured design. It is up to the migration architect to make the most critical decisions to ensure the cloud migration process goes smoothly. Some of the elements you need to consider are:
a.Data transfer bandwidth. You will need to determine if your network's bandwidth is sufficient for the amount of data that will be transmitted. With adequate bandwidth, your firm will experience timely issues and a drop in user productivity. Your managed service provider can assist you in evaluating your existing and future network bandwidth needs.
b.Procedural changes.  Migrating to the cloud means that businesses will need to change and adapt to how employees work and operate. Before you migrate your business to cloud technology, be mindful of how it will alter organizational policies.
c.Legacy systems. Before you start the migration, you need to know what will happen to your current infrastructure. You may have hardware and software critical to how your businesses operate, but they still need to be compatible with the Cloud. Your system may be very integrated and have a lot of dependencies, making it hard to move to the Cloud. If so, this will need a lot of time and careful planning to ensure nothing goes wrong.
d.Training requirements.Employees must learn how to access and use cloud solutions correctly to get the most out of moving to the cloud. Also, companies need to make and use a cloud security policy. Among the things that are usually talked about are:
Employee usage
Variations of data that are allowed
Access management
Incident response protocol
7.Cloud Platform Assessment
Enterprises find it very difficult to select a cloud platform for the migration of their critical applications. The technology and Application Programming Interface (APIs) used to construct the software are the only factors that affect how well cloud platforms can optimize their applications. Organizations must carefully evaluate the prerequisites of their business and the technology utilized in their applications before deciding on a single cloud platform or a multi-cloud platform.
8.Cost and Return On Investment
Cost of operating infrastructure, which includes software, hardware, human resources, fault tolerance, and disaster recovery, are crucial factors to take into account when deciding whether to go to the cloud or stay on-premises. The fact that cloud technology is paid for as an Operational Expense (OPEX) and requires little to no extra flexibility. Scalability is one of the benefits of switching to cloud services. Your cloud subscription should pay for the majority of your OPEX.
9.Roles and Responsibilities
When transitioning to the cloud, it is crucial to remember that certain job responsibilities will change. This is particularly true for the IT department. More emphasis will be placed on integrating cloud solutions and managing end-to-end capabilities among the IT team's responsibilities. New responsibilities that may have to be added include the following:
Maintenance of cloud security
New cloud solutions selection and evaluation
Risk analysis
Permissions management and access control
10.Finances
Many small firms discover that switching to the cloud facilitates the reduction and management of IT expenses. Typically, cloud solutions are configured as Software-as-a-Service. This indicates that apps are hosted centrally and made available to customers via a subscription-based pricing mechanism. Moreover, organizations that adopt cloud-based business solutions save money on hardware. Since data and solutions are saved off-site, there is no longer a requirement for storage and server hardware. The cost of cloud migration converts IT expenses from a capital expense to an operational expense. This enables a business to forecast monthly expenses, spread costs out over time, and scale quickly when necessary.
11.Operations and Functionality
Cloud solutions are more trustworthy than on-premise systems, allowing organizations to reduce system downtime. Moreover, data is accessible at any time and from any location, as long as an internet connection is available. This makes it an attractive option for businesses with remote workers. Cloud solutions are also more scalable as your business' requirements evolve. Companies are able to simply add and remove users and features as demand changes.
12.Identifying the Right Cloud Service Provider
And lastly, before migrating to the cloud, the most important consideration is selecting the best cloud service provider to serve your business. Numerous cloud service providers exist, and their number continues to rise. But, how then can you determine which service is suitable for your business? You can evaluate cloud service providers using the factors listed below. A reliable cloud service provider must:
Be reliable and competent
Comply with federal data policies
Have ample experience
Priority should be given to security measures
Havecertifications and verified business standards
Provide Service Level Agreements
Must guarantee maximum data security
Summary
Moving to the cloud is not a one-time decision. It has company-wide and long-term implications, so moving to the cloud should not be done in isolation. You should consult with a Cloud Service Providerwho can assess your current infrastructure and provide a detailed cloud migration roadmap, as well as the risks involved. You are more likely to make a good decision if you carefully consider the 12 factors listed above when migrating to the cloud.
What are you waiting for? Call QuickInfra today! A cloud partner that you can trust 🙂
Categories
Featured Posts